2017 Aston Martin DB11 Launched at Geneva Motor Show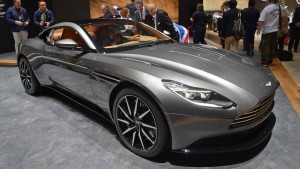 Aston Martin may have already decided to stop using the glorious-sounding V-12 engine, but it is giving us something more to aspire for—the DB11 with a new 5.2-litre V-12 that shares bore centers with the old 5.9-litre engine.
But that is the only similarity between the old V-12 engine and the new power unit of the Aston Martin DB11. Everything else is new. It has an engine capable of 600 horsepower—60hp more than the DB9 GT—which would most likely help potential buyers to move on from the V-12.
The DB11 unveiled at the Geneva Motor Show 2016 can produce 516 lb-ft of torque, available from 1500 rpm to 5000 rpm. Compare this to the DB9's max of only 457 lb-ft arrived at a lofty 5500 rpm, and you've got true power on your hands.
Aston Martin promises that the DB11's engine can deliver lag-free response with one turbocharger and intercooler per bank. This can lead to cylinder deactivation as the engine shuts down a whole bank to become a 2.6-liter inline-six. It uses an eight-speed ZF automatic like on the Vanquish, with the power sent to the rear wheels through a torque-vectoring differential.
Dimensions of the DB11 are very similar to the Aston Martin DB9. The only difference is that the DB11 is 1.2 inches longer, 2.7 inches wider, and 0.3 inches higher. It also sits on a wheelbase that is 2.5 inches longer. The weight is also nearly identical at 3902 pounds, with the DB11 only being slightly 33 pounds lighter.
This is quite a conundrum since Aston Martin already said the new engine will be heavier, so the body's shell mass is drastically reduced with the use of carbon fiber. In terms of interior, the DB11 has more space since it has almost usable rear seats compared to the DB9.
The Aston Martin DB11 will be priced at $214,820 in the United States. The first deliveries will start in the fourth quarter of this year.