2017 Bentley Mulsanne By Mulliner Runs Away From The Conventional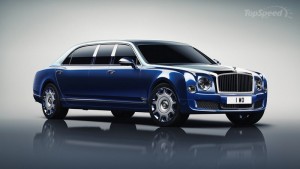 Bentley is known for manufacturing probably most of the opulent and posh cars you see on the road today. The company uses only the finest materials both for its exterior and interior. But Bentley does fall on one category—it doesn't offer a vehicle with seating for six, especially rear-facing seats.
Actually, not many automakers do these days, so when a customer approached Bentley's customization department called Mulliner, the company jumped at the chance to create something special according to TopSpeed.
Bentley then brought this one-time deal to the 2016 Geneva Motor Show, and it's easy to see why. This customized Bentley Mulsanne is full three feet longer than a standard Mulsanne, and offers four seats on its rear cabin, two of which faces the rear of the car. A divider—a clear glass that changes from clear to opaque with a simple switch—separates the driver and the passenger seat from the rear.
Wolfgang Dürheimer, Bentley's chairman and chief executive, said the Mulsanne Grand Limousine showcased the craftsmanship of its in-house customization department—so much so that it literally manufactured a Mulsanne limousine for a customer. Talk about service. Not many automakers would stretch a limb to do that.
Outside, the Bentley Mulsanne Grand Limousine is a full meter longer and 79mm taller because of the bespoke roofline. The extra length and height that resides between the B-pillar and the rear wheels allow for a longer rear door to accommodate a wider exit and entrance doors. There's also a center section that adds further length.
The car is painted Moroccan Blue with the hood, roof and trunk painted in Silver Frost. The 21-inch wheels' spokes are also colored Moroccan Blue.
Inside, the four seats (the front- and rear-facing), are covered in leather-lined cabin with rear wood veneers, aluminum parts, chilled compartments for drinks, and connectivity for electronics.
Bentley has yet to release how much its customer paid for the customization, but the standard Mulsanne has a starting price of $300,000 so the Grand Limousine will probably around the price of $500,000.