2017 BMW 6 Series Takes on Porsche Panamera and Audi S7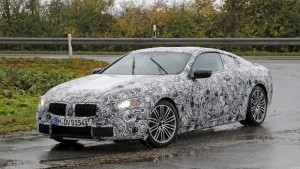 A possible 2017 BMW 6 Series was spotted testing on the road. It will have a new lightened chassis, upgraded tech for the cabin and refreshed styling on the outside.
Although details are still up in the air, what is clear is that it will be competing against the Porsche Panamera and the Audi S7.
Based on the spy shots, the fourth generation model of the BMW 6 Series will offer a roof with an angled approach towards the rear end, which promises to give the car a fastback profile. It also has a trailing spoiler and revamped taillights on the rear, and a kidney grille and slimmer headlights up front.
In terms of dimension, this is still in the midsize range, though it will carry the chassis code G14, G15, and G16, replacing the outgoing model's designation of F12, F13, and F06, respectively.
Under the hood, the new BMW 6 Series will have the same powerplant treatment as the new 5 Series, meaning a turbocharged 3.0-liter inline six-cylinder from the 540i. Output is a mean 350 horsepower and 340 pound-feet of torque.
Currently, the 6 Series is pegged at $77,600, but the top-of-the-line model can go as high as $100,000.
Porsche Panamera or the BMW 6 Series?
For under $80,000, the Porsche Panamera—all that power—can be yours. It combines the power of a high-end sports car with the functionality of a five-door hatchback.
If you have the extra juice, meaning $100,000, you can get the Turbo S model, which has a 911-performance, thanks to its twin-turbo V-8 that can produce 570 horsepower. This can make the Panamera go from 0 to 60 mph in just 3.6 seconds. It has a maximum speed of 192mph.
The Panamera also comes packing with the Porsche Active Suspension Management with three different drive modes—Comfort, Sport and Sport Plus.
If BMW plans to compete with this through the 6 Series, it better bring its A game.