2017 BMW 7 Series Centennial Edition Will Only Have 100 Units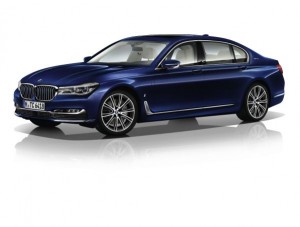 Since BMW is celebrating its centenary in 2016, it decided to start the celebration with the Vision Next 100 Concept for the Mini, Rolls Royce and BMW Motorrad brands. But more than anything else, the company will also introduce the BMW 7 Series Centennial Edition, a lineup consisting of three models each designed by the German brand's Individual division.
The Centennial Edition will come packed with an exclusive exterior finish and luxurious interior in high-grade leather and other expensive materials. All of the models will bear the lettering "The Next 100 Years," similar to the concept.
There are basically three drive variants available for the Centennial Edition: the BMW 740Le iPerformance and BMW 740Le xDrive iPerformance with plug-in hybrid system, the V8 model BMW 750Li and BMW 750Li xDrive, and the BMW M760Li xDrive with a 12-cylinder power unit.
But regardless of your choice of engine, the appearance, driving experience and luxurious ambience of the sedan's interior will still be the same. The sedan comes with the exclusive centenary model paint finish, 20-inch BMW Individual alloy wheels, BMW Individual fine grain Merino full leather trim, and interior refinements from BMW Individual.
Then, there's the handcrafted signet with the lettering "The Next 100 Years" on the B pillars, the interior strips above the glove compartment on the passenger side, and the front and rear seat headsets.
The Centennial Edition, in particular the BMW Individual 750Li The Next 100 Years, will be fitted with the new 8-cylinder engine. It combines the latest version of BMW TwinPower Turbo technology with the V8's 4.4-liter engine, which can deliver a maximum power output of 330kW/450hp and maximum torque of 650 Nm.
Acceleration is 0 to 100 km/h in 4.7 seconds with an average fuel consumption of 8.3 liters per 100 kilometers and CO2 emission of 192 grams per kilometer.
There are two other engine variants, which will be featured in the BMW 7 Series centennial models, that would be launched during the BMW Group's anniversary year.
The 12-cylinder power unit found on the BMW Individual M760Li xDrive Model V12 Excellence is a 6.6-liter engine with the BMW TwinPower Turbo technology that delivers a maximum output of 448kW/610hp. It also enables the M760Li to go from 0 to 100 km in 3.7 seconds.