2017 Cadillac CTS Gets Minor Visual Updates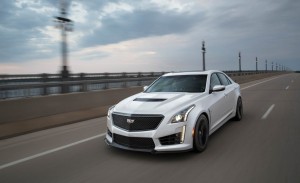 Because Cadillac's core sedans—the compact ATS and the midsize CTS—were struggling to make sales against its competitors, the automaker has decided that its 2017 CTS will receive minor trim-level upgrades and mild visual refresh.
"Mild" might be overstating it as the only visual change we noticed in the pictures is the addition of a horizontal chrome bar for the grille and the reshaped exhaust outlets at the rear.
In terms of trim-level structure, the more significant changes on the 2017 Cadillac CTS are the 2.0-liter turbo four-cylinder. It doesn't offer much luxury equipment, but the base CTS will only have a starting price of $46,990, which is $435 higher than before.
On the other hand, the CTS Luxury, which starts at $52,690, has the standard 2.0T engine. Buyers, though, are allowed to upgrade to the 3.6-liter V-6 for an extra $2,000. Inclusions in the Luxury package are essentials such as leather seats, a sunroof, heated and ventilated front seats, along with several active-safety features including blind-spot warning, lane-keep assist, and forward-collision warning.
Another step up is the CTS Premium Luxury, which will have a standard 3.6-liter engine with the following features: adaptive dampers, rain-sensing wipers and park assist. It has a starting price of $60,190.
All models will be paired with an eight-speed automatic transmission while an all-wheel drive option is available for an additional charge of $2,000.
If you want more performance from the CTS, check out the 420-horsepower CTS Vsport. It is a 10Best winner for the last three years. We'll also see the return of the 640-horsepower CTS-V. The two, however, did not receive the same minor updates as the standard CTS models.
The Vsport has a two-model lineup—the standard's starting price is at $61,990 while the Vsport Premium begins at $71,790. The 2017 CTS-V's price remains unchanged at $85,990.
Check out the photos of the new Cadillac CTS in the gallery below: