2017 Chevrolet Camaro Models Get Lower Prices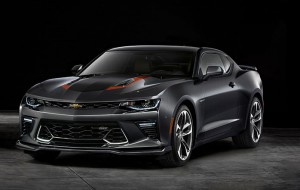 Chevrolet announced price cuts on some of its 2017 Camaro models. The move is to keep the momentum of the Chevrolet Camaro going as it is now narrowing its gap with the Ford Mustang in terms of sales.
According to a source, the Camaro units affected by the price slashes are the 1LS base models as well as the convertible trims of the range. The cost of the products have dropped by $400 up to $2,900.
With the cuts, the report noted that the starting price of the Camaro 1LS model has gone down to $26,900 inclusive of destination charges. It is still more expensive than the Mustang V-6's base price of $25,815. However, the new 1LS is $400 cheaper than it was before the price adjustment was made.
The article added that buyers will get more out of their money's worth with the new 1LT model. Chevrolet retained all the features introduced in the discontinued 1LT manual trim with the standard 1LS manual-only variant. Despite the removal of the manual 1LT trim in the lineup, the automaker made up for it with its automatic transmission version.
The new 1LT comes with an eight-speed automatic transmission as a standard fit. The eight-speed automatic transmission feature used to be an optional purchase worth $1,495. The revamped Camaro 1LT automatic costs $27,595, which is $1,200 less than its older model.
The 1LT possesses the same engine present with the 1LS and 2LT models. The mentioned units have the 2.0-liter turbo four-cylinder engine as a standard and an optional 3.6-liter V6. The SS versions are equipped with the 6.2-liter V8 power unit.
The coupe trim prices remain untouched while the prices of the convertible models have price cuts of up to $2,900. The manual 1LS had the most cut, which currently costs $31,400. The rest like the 1LT automatic convertible and 2LT convertible have their starting prices dropped to $33,595 and $36,600, respectively. The two are now $2,200 and $1,800 lower than their original price tags.
The SS variants take a $1,000 dip too. The 1SS and the 2SS are presently priced at $43,900 and $48,900, respectively.