2017 Chevrolet Camaro ZL1 Unveiled With 640hp, 10-Speed Auto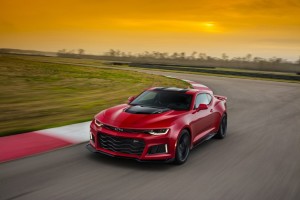 Everyone thought the 1LE would be the biggest and meanest Camaro to be unveiled this year. Well, we're dead wrong. According to Motor Authority, Chevrolet just announced the debut of the new Camaro ZL1, which packs a staggering 640 horsepower and 640 pound-feet of torque.
That power comes from the familiar supercharged 6.2-liter V-8 found in cars like the Corvette Z06 and Cadillac CTS-V. This is combined with the lighter chassis of the sixth-generation Camaro's Alpha platform.
The combination would give Ford's Mustang Shelby GT350R a run for its money. It can even embarrass some other "powerful machines," such as those being churned out by Porsche.
There are no significant details yet about the power and speed of the new Chevrolet Camaro ZL1, but expect it to be faster, of course, than the previous ZL1 that can run the quarter mile in 11 seconds. The new ZL1 has 60 horsepower more than the previous version, and it also weighs 200 pounds less.
And with the 10-speed automatic transmission, expect it to move right up there in the speed ranking. The transmission was developed with Ford, which initially wanted it for the new F-150 Raptor.
But those who don't have the need for such speed can have the standard 6-speed manual with rev-matching.
There are other technologies used in the new ZL1 that has nothing to do with speed, but with a more efficient performance. The list includes magnetic ride control, an electronic limited-slip differential, performance-oriented traction control, launch control and a driving modes selector.
The new ZL1 has massive Brembos with six-piston calipers at the front and four-piston calipers at the rear too. Then, there are 15.35-inch discs at the front and 14.37-inch discs at the rear. The car sits on 20-inch wheels shod with Goodyear Eagle F1 tires that measure 285/30 at the front and 305/30 at the rear.
The Chevrolet Camaro ZL1 will have its world debut next week at the New York Auto Show, so stay tuned for more details.