2017 Citroën C3 Spotted On The Streets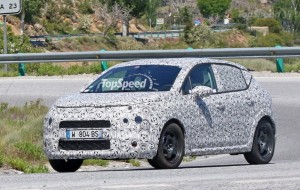 It has been three years since we saw the second-generation Citroën C3 get a minor facelift; and that was six three years after the vehicle entered the auto industry.
Finally, we're seeing the new-generation C3 up and about on the road. Based on the heavily camouflaged new C3, it would have a small, aerodynamic lip as caused by the front fascia being recessed under the hood. The spy shots also show larger upper air inlet, reshaped rear quarter windows, all new exterior light units, and a revised rear fascia.
There are no photos yet of what the inside would look like, although it might just carry over the pretty impressive interior of the outgoing model. What we're expecting is to see a similar steering wheel with accenting on the lower spoke plus a simplified center console.
Overall, the interior would most likely be changed for refinement rather than for replacement.
As for the drivetrain, the new C3's options are well-guarded secrets. What we're hoping to see is a wide range of engine options—3- to 4-cylinder gasoline and diesel engines. The gasoline engine can produce a 68-horsepower 3-cylinder, 82-horseopower 3-cylinder, or a 110-horsepower 3-cylinder.
The turbodiesel will offer a 75-horsepower and 100-horsepower engines. The standard for all engines is the manual transmission, although an automatic transmission is also being offered in other models, depending on the case.
Pricing information isn't available yet for the C3 since this is the first time the car has been completely upgraded in six years. We can estimate based on the current models. In the UK, the current model has a price tag of $15,353 for the entry-level model, and $24,062 for the top-ranging model.
If it wants to remain competitive, the Citroën C3 cannot raise prices too much. In this segment, the Citroën C3 will go against the Ford Fiesta and the Volkswagen Polo.