2017 Genesis G80 With New Sport Trim Gets Released In Korea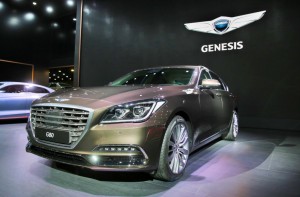 The 2017 Hyundai Genesis G80 made its world debut at the 2016 Busan Auto Show. Aside from the regular sedan, we also saw the launch of the Genesis G80 Sport.
Hyundai's Genesis sedan has been updated for the 2017 model year, and since it has been moved to the Genesis luxury brand, it was rechristened as the G80. This particular vehicle will compete against midsize luxury sedans such as the BMW 5-Series, Cadillac CTS and Mercedes-Benz E-Class according to a report.
In the Korean market, in particular, the car will feature two gasoline V6 engines in the powertrain lineup. A diesel might also be up for grabs, although there's no clear plan yet for this.
The gasoline-powered V6 engines will include the 3.8-liter unit and the twin-turbocharged 3.3-liter unit that debuted in the 2017 Genesis G90 full-size sedan.
As for the United States, there are still no confirmed specifications for the G80, although we're expecting the 3.8-liter unit to be offered. This particular engine will provide 311 horsepower while the twin-turbocharged 3.3-liter unit can offer 365 horsepower.
There is high hope among car enthusiasts that Hyundai Genesis' 420-horsepower 5.0-liter V8 engine will also be used in the G80.
The standard transmission would be an 8-speed automatic and rear-wheel drive. But don't fret, an all-wheel drive will also be available as an option for the G80.
As the current Hyundai Genesis is exiting the market, fans of the model are waiting for what's in store in the new Genesis. The updated 2017 model will get minor visual tweaks, including new bumpers, new internals for the headlights, and a revised grille.
The G80 is expected to be available in the US market this year. It will be the second of six separate model lines that Genesis plans to launch until 2020. Later this year, a smaller G70 sedan will be introduced. This is based on the recent New York concept from Genesis.
Next year, two SUVs and a large coupe will join the lineup.