2017 Honda Accord Lineup Includes Sport Special Edition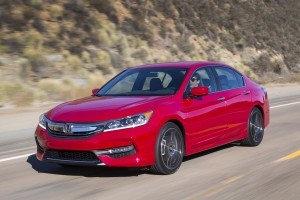 Honda has a special treat for all Accord lovers. The new Accord lineup will introduce the 2017 Honda Accord Sport Special Edition sedan, which sits somewhere between the Sport and EX levels of the 2017 Honda Accord's multi-trim model line.
The Sport Special Edition is built on the existing content found in Accord Sport based on reports. It has the same 189-horsepower four-cylinder engine, but added features such as heated leather seats with red stitching inside and a Special Edition badge on the outside.
The base model will have a six-speed manual transmission, and will cost $26,250. The continuously variable automatic (CVT) costs an additional $800.
The new Accord Sport Special Edition costs exactly $1,000 more than the 2017 Accord Sport. That cost stands for heated leather seats and the badge to remind that you're very "special" to Honda.
Compared to the standard Accord Sport, the rest of the range increased its price by $150. The least expensive Accord, which has a six-speed manual and produces 185 horsepower, now begins at $23,190.
The package includes a rearview camera, Bluetooth hands-free phone connectivity, and dual-zone automatic climate control.
Other available options are a CVT for $800 and Honda Sensing (but only with the CVT) for $1,000. Honda Sensing will come with safety features such as forward-collision warning, lane-departure warning, adaptive cruise control, among others.
These two options are also available on the sportier LX-S coupe that has a starting price of $24,860 and Sport sedan. They can also be included with the package for EX coupe ($26,985) and the EX sedan ($26,565).
The leather-lined four-cylinder EX-L coupe is priced at $29,830 while the sedan starts ar $29,655. Both will remain for CVT only.
Adding Honda Sensing adds $2,000 because it's paired with a navigation system.
If you want more power, the Accord EX-L also offers Honda's 278-horsepower V-6 engine.
All sedans are paired with a standard six-speed automatic transmission ($31,730) while the coupe can be paired with either a six-speed manual ($32,005) or the automatic.
Finally, the Touring models ($35,210 coupe; $35,655 sedan) will have both the navigation and Honda Sensing as standard equipment.
They will also come packed with LED headlights, automatic high-beams, and rain-sensing wipers.