2017 Honda Civic Hatchback Offers Turbo Engine, 6-Speed Manual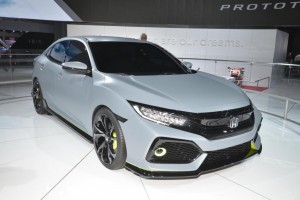 Honda has finally confirmed some specifications for the 2017 Honda Civic Hatchback, which was previewed as a prototype during the 2016 Geneva Motor Show.
According to the source, the new Civic Hatchback will be on sale later this year as a 2017 model. It will also be initially offered with one engine option, though a different option has now been unveiled by Honda.
Jeff Conrad, Honda's senior vice president and general manager, promised that the Civic Hatchback will be the sportiest and most sophisticated in Honda's current lineup. He also announced that this would be the first US-model Civic the company will offer with a 1.5-liter 4-cylinder turbocharged engine.
That engine can be found in the latest versions of the Civic Sedan and Civic Coupe. It currently delivers 174 horsepower. But for the Civic Hatchback, Honda decided to pair this up with a standard 6-speed manual transmission. For other models, Honda will offer this as an option.
Conrad said the new powertrain will ensure fun-to-drive performance and fuel economy with an EPA highway rating of 42 mpg and a 0-to-60 time that would only match the previous Civic Si.
Inside, the Civic Hatchback would be made of high quality materials, and would also have added legroom and new technologies including a Display Audio touchscreen with Android Auto and Apple CarPlay compatibility.
The New York Auto Show will feature the Civic Hatchback in prototype as Honda is not yet ready to reveal this in production guise. Auto experts have pegged that the Hatchback, like the Civic Type R, will have aggressive front bumper, center-mounted exhaust tips and oversized wheels.
The Civic Type R has already been spotted out and about. This model comes with turbocharged 2.0-liter 4-cylinder that matches the 305 hp that the outgoing Civic Type R produces. The Type R and Civic Si will be available on the market next year, Honda has confirmed.