2017 Honda Civic Hatchback To Debut In Geneva Motor Show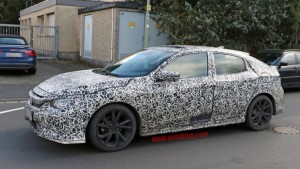 Honda is expected to tease with previews of its 10th generation Civic hatchback during the 2016 Geneva Motor Show next month. Those curious to see what the hatchback would look like should seek no further since we got some photos when Honda tested it on the road.
Although it was covered in camouflage, there was no padding so the design cues were reflected. It basically retains 80 percent of the DNA from the 10th generation Honda Civic sedan, so you know what to expect from the fenders down to the rear doors.
The hatchback will be launched in the first quarter of 2017 in Europe, but since this is a "global car," expect it to arrive soon enough in the United States and other parts of the world.
By looking at the Civic sedan, you'll immediately have an idea of how the hatchback would look in front. It would have the same radiator grille, huge chrome louver, the Honda "H" in the middle, the updated headlights, fog lights, and less dramatic corner vents. As for the hood, it looks like the hatchback would have the same one as the Civic coupe and sedan.
If you're a fan of the mild body line from the front wheels to the rear taillights, then you would love that too about the hatchback. The difference between the sedan and the hatchback can be seen after the rear doors since the hatchback sports a dual exhaust outlet near the fascia in the middle.
Inside, it would probably be similar to the sedan and the coupe. There would be a light-colored floating center console, touchscreen display, and digital instrument cluster. The front and the rear seats would mostly be the same, but the rear deck would be gone for more cargo space.
No prices have been announced for the hatchback, although the current one sells for $20,067in the UK. Pricing may increase a bit because of the new design and extra length.
Below are some spy shots of the upcoming Honda Civic hatchback, which were provided by AutoBlog: