2017 Hyundai Sonata Hybrid Has Enhanced Multimedia Functions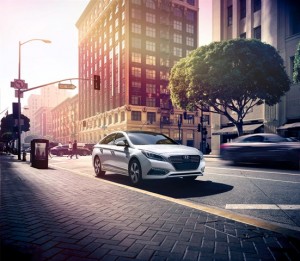 Hyundai Sonata receives a number of audio and multimedia enhancements for the model year 2017. Though there are a few upgrades too in terms of transmission and powertrain, the real changes come in the form of a larger seven-inch, high-resolution color touchscreen display audio, standard HD radio, Apple CarPlay, Android Auto, and the next-generation Blue Link Connected Car system based on a source.
In the heart of the 2017 Hyundai Sonata Hybrid is the 2.0-liter Nu GDI four-cylinder engine partnered with a six-speed automatic transmission that has a 38 kW electric motor and clutch. It also boasts of being fuel efficient, thanks to the Transmission-Mounted Electrical Device (TMED) that can deliver responsive and engaging driving characteristics.
To improve efficiency, the innovative transmission uses an electric oil lamp, making it possible for the Sonata Hybrid to solely operate on electric power at speeds up to 75mph by decoupling the gasoline engine from the rest of the drivetrain.
The Sonata Hybrid Nu's engine can produce 154 horsepower and 140 lb-ft of torque while the electric motor can come up with 38 kW (51 horsepower) and 151 lb-ft torque. The hybrid system, on the other hand, has a net power of 193 horsepower at 6,000 rpm.
The Sonata Hybrid SE has ratings of 39 mpg in the city, 45 mpg on the highway and a combined EPA-estimated rating of 42 mpg. The total estimated range of the Sonata Hybrid is more than 650 miles under typical driving conditions.
The Sonata Hybrid is being offered in an all-new color palette that is going to be available by mid-year. The colors now are Hyper White, Nocturne Black, Metropolis Gray, Ion Silver, Cosmopolitan Red, Astral Blue and Skyline Blue. The interior colors are gray and beige in cloth or leather seating configurations and an additional Blue Pearl option for leather seats.
Pricing is as follows: Sonata Hybrid ($26,000), Sonata Hybrid Limited ($30,100), and Sonata Hybrid Limited with Blue Pearl Interior ($30,100).