2017 Jaguar F-Type Comes With New Infotainment System and Engine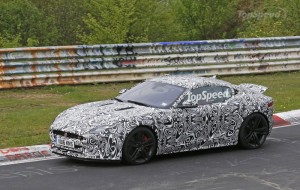 Jaguar's sporty two-door F-Type has been making waves since 2013 as a roadster and as a coupe. But although it has always been quite able, it is not time for an update.
The new F-Type is expected to be revealed next year at the Geneva Motor Show, according to TopSpeed. Although there are no exact details yet, spy shots of the new sports car at Nurburgring brings some vague but incredible upgrades that should apply on both the coupe and the convertible.
The F-Type's greatest strength is in its styling, which was an original by British car designer Ian Callum. The low-slung and wide and long hood line with the angled roof are all perfect sports car designs. The overall styling combines elegance and athleticism.
The new F-Type won't go too far from the original. There's a downsized grille, covered intakes in the sides of the bumpers, and dual, blade-shaped inlets.
The spy shots' camo wrap doesn't let us see more, but the new units appear larger, moving horizontally towards the edge of the fenders. It adds an extra visual width to the front end.
We expect the headlights to be reshaped, and converted to LED daytime running lights plus an option for adaptive high/low beams.
No major changes are expected on the sides and tails, except for the taillights and few alterations on the rear bumper.
Inside, the F-Type has a two-seat layout while the driver can enjoy a three-spoke, multi-function steering wheel, plus well-bolstered sports seats in premium leather.
Minor upgrades are expected on the interior layout with the dashboard possibly being reshaped. The major change would come in the form of the centrally mounted touchscreen and the driver's into screen in the gauge cluster.
Since there are no details yet on the drivetrain, we are expecting the current lineup–a 340-horsepower V-6 in the base model and Premium, a 380-horsepower V-6 in the S and S AWD, a 550-horsepower V-8 in the R, and a 575-horsepower V-8 in the SVR.
Options for transmission consist of a six-speed manual and an eight-speed automatic with paddles.
Currently, the F-Type range starts at $61,400 for the base coupe and $128,800 for the SVR convertible.