2017 Kia Cadenza Gets 8-Speed Auto, Fuel Economy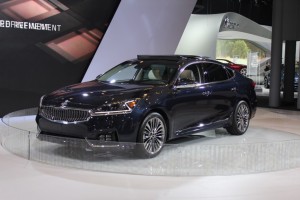 The 2016 New York International Auto Show highlighted a slew of budget sedans and SUVs that would revamp market availabilities, targets and demands in the following months. One of the most anticipated confirmations is Kia's 2017 Cadenza.
The brand has finally gives a glimpse of what's new with the 2017 Kia Cadenza during the New York Auto Show. It can be recalled that the company revealed that the car will arrive in US shores later this year.
The car was first offered to Americans in 2013, so it's not exactly old, but changes are forthcoming and much needed amid a society of automobile enthusiasts constantly needing upgrades, not to mention options for fuel economy.
The big sedan is related to the Azera, made by sister company Hyundai. It sports the same 3.3-liter V-6 and front-wheel drive setup currently in the outgoing model. The use of the same drive setup is not really surprising, although we expected more from this upgrade—preferably a smaller and more fuel-efficient engine.
The new Cadenza will also replace its current 6-speed automatic with the new 8-speed automatic transmission that promises to improve fuel economy.
If it follows the schedule, the new Kia Cadenza will be the first one from the brand to use the front-wheel and 8-speed auto transmission combination. We're expecting that combination to be a platform for other future Kia vehicles, although the company has yet to confirm that.
Although it's looking like the new Cadenza will be more fuel efficient than the current one in the market, Kia did not give any details to how economic it will be. Experts said it'll be a slight improvement from the 19 mpg city, 28 highway and 22 combined from the current car. Here's hoping the 2017 Cadenza will breach the 30 mpg threshold.
Outside, the Cadenza will have the same design as the one that debuted last November in Korea. It has a European-inspired exterior while the interior has light updates.
Source: Motor Authority