2017 Kia Rio 5-Door Receives Minor Enhancements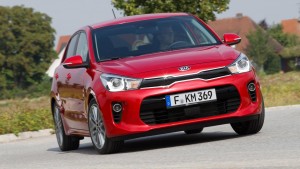 Kia is carrying their five-door sedan for the 2017 model year with a few minor enhancements, including the new red and black color exteriors for the LX trim.
According to the company news site, the Kia Rio 2017 five-door sedan has three variants, so far—LX, EX, and SX. Excluding an $850 destination charge, the LX is priced at $15,495, the EX at $17,905, and the SX at $20,905. All the variants will carry an engine that is coupled with a six-speed automatic transmission that can produce 138 horsepower and 123 lb-ft of torque.
EPA estimated Kia's five-door sedan to have the ratings 27/36/30 for city/highway/combined for all variants. As for dimensions, the overall length of the five-door sedan is 159.4 inches, the overall width is 67.7 inches, the overall height is 57.3 inches and the wheelbase has 101.2 inches.
It has a maximum cargo capacity of 49.8 cubic feet when the rear seat is folded without a luggage under tray, and 47.1 cubic feet when the rear seat is folded with luggage under tray. As for the curb weight, the LX is at 2,564 lbs., the EX is at 2,601 lbs., and the SX is at 2,732 lbs.
For 2017, the five-door Kia sedan continues to be the smallest and most economical model that can deliver a combination of world-class styling, fuel economy, advanced technologies, and good value.
The hatchback will be receiving design upgrades in the form of Kia's signature tiger nose grille and wider, thinner body structure. The LED lights have also been redesigned with a U-shape for the headlights and an arrow design for the taillights.
Production for this new sedan from Kia will begin at the end of 2016 for overseas markets. Release dates for the United States have yet to be determined, so check back again for more details on that.