2017 Mazda CX-4 To Be Unveiled At Beijing Motor Show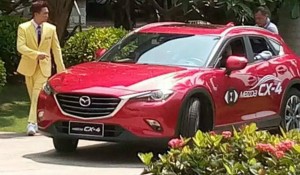 Mazda introduced the Mazda Koeru concept during last year's Frankfurt Motor Show, promising to venture into the growing crossover SUV segment. This is the answer to that—the Mazda CX-4. It came sooner than expected, but who's really complaining?
Most upcoming models come as prototype, but based on a source, the CX-4 was immediately spotted in production in Asia late 2015. By the beginning of 2016, Mazda has confirmed this and said it will be unveiled at the 2016 Beijing Auto Show this April.
The CX-4 will walk on that thin line between Mazda 3 and CX-5, so it will probably be the sportier, coupe version of the CX-3.
Mazda has already released a few teaser photos for the CX-4, and we can't help but be charmed by it. The CX-4 will have the same features such as the KODO-styled front end, massive grille, and sculpted engine hood. Koeru's grille frame extends into the headlamps—a feature not available on current Mazda units.
Koeru has a sporty profile, and we can see this on the CX-4 with its roof sitting slightly higher and its door handles having standard design.
Inside, the CX-4 interior is not as fancy as the current CX-5. But this doesn't mean the CX-4 will have no premium features since it comes with aluminum inserts, leather, contrast stitching, and overall fit-and-finish.
Since the CX-4 is configured to become a coupe, it will feel less roomy than the CX-5.
No exact word yet on the vehicle's powertrain, but it might actually not go too far off and remain inspired by the CX-5. That one has 2.0-liter SkyActiv unit rated at 155 horsepower and 150 pound-feet of torque in entry-level guise and a more powerful 2.5-liter SkyActiv with 184 horsepower and 185 pound-feet of torque.
Choices for transmission would make us pick between a six-speed manual and a six-speed automatic.
If it will cost as much as the CX-5, then you better prepare around $21,795.