2017 Mazda CX-5 Gets 3 New Powertrains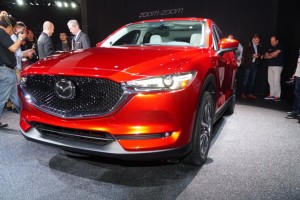 Mazda finally revealed its redesigned CX-5 for the 2017 model year. One of Mazda's most popular vehicle, this compact crossover SUV has received some fresh upgrades, mainly when it comes to its powertrains.
This redesigned CX-5 will start appearing in showrooms next spring as a 2017 model. It made its formal debut on Wednesday at the Los Angeles Auto Show. This will be first launched in Japan before rolling out to other markets.
Mazda remains mum in interviews on what exactly changed in the new CX-5. What if confirmed, though, are three new powertrains to choose from—two gasoline units and one diesel.
3 New Powertrains
Basically, Mazda said the CX-5 will have a 2.0-liter and 2.5-liter inline-4 gasoline engines, the same ones in the current CX-5. These two will most likely be able to produce 155 and 184 horsepower, respectively.
As for the diesel options, it's going to be a 2.2-liter engine. There's no word yet whether it's coming to the US, or will simply be an offering in Asian markets.
If you're wishing for the CX-5 diesel option, you'd have to wait for while more. Mazda has been saying that a diesel engine option will be made available for the CX-5 for years. There has been no report of that until now.
KODO Design
Aside from Mazda's Skyactiv design principles, it will also use its KODO design language. The combination is potent because what came out of it is an affordable crossover that stands out both in looks and performance.
The KODO lines allowed Mazda to redesign the CX-5 without going overboard. This styling trend became more prominent, thanks to the arrival of the 4th generation MX-5 Miata and the latest CX-9. Now, the rest of the lineup has been using the same design trend.
New Paint Color
The CX-5's looks will be further upgraded because of a stunning new color named Soul Red Crystal. By using the Takuminuri paint technology, the new paint job has a high-quality finish. However, Mazda was not done yet. It added aluminum flakes and a translucent layer for that very deep and saturated red color.