2017 Nissan Pathfinder Gets Facelift and More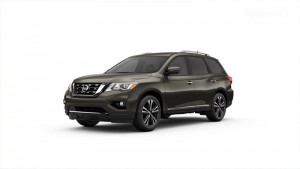 Nissan
just announced the new 2017 Pathfinder, the fourth-generation of the model the Japanese automaker has routinely forgot to update over the years.
Aside from a facelift, the Pathfinder also has a new 3.5-liter engine, more power, new front and rear fascias, updated technology, and a bump in towing capacity based on a
report
.
Details for the exterior look of the Pathfinder include a set of redesigned headlamps that comes with new lens layout and a refined bottom edge that has a zigzag to it. The fog light bezels are a little higher and more upright while the air dam isn't as wide as before.
As for the hood, it now has a sharper drop as compared to the smoother curve of the current Pathfinder.
The side profile remains the same, except for new sideview mirrors.
Inside, not much has changed, though the Pathfinder's interior remains to be our favorite, thanks to how inviting it has always seem with its simplistic and functional design.
Nissan claims the center console has been redesigned but we found nothing except for the standalone cup holders. What's certainly new in the Pathfinder's interior is the infotainment display with an 8-inch screen with improved human-machine interface.
Other additions include the SirriusXM radio capability, Bluetooth connectivity, updated instrument cluster with driver assistance and infotainment functions, and HD interior microphone.
The biggest change is the 3.5-liter V-6-like engine found in the 2016 Pathfinder and older models. It can produce 284 horsepower and 259 pound-feet of torque. Power is sent to the wheels through Nissan's third-gen Xtronic CVT transmission with D-Step logic control.
Nissan has yet to announce pricing details but based on the current range, the 2017 Pathfinder will start at $30,900 for the base model and up to $43,000 for the range-topping Platinum trim.
Check out the photos of the new Nissan Pathfinder in the gallery below: