2017 Porsche 911 R Is The 911 GT3 We've All Been Waiting For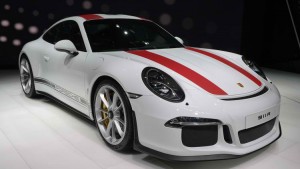 Porsche's 911 GT3 was welcomed with a lukewarm response despite having one of the best automatic transmission ever built mainly because Porsche purists are looking for a track-ready Porsche 911 with a manual gearbox.
Although the Porsche 911 GT3 shifts amazingly quick and was tuned to deliver fast lap times around the race track, there was still nothing better than a car with three pedals and a stick. Thankfully, the new Porsche 911 R is making its debut at the Geneva Motor Show today.
New images have already been leaked of this manual transmission 911 R, but there's also another that set this thing apart from the 911 GT3—the 911 R has no rear wing.
In terms of exterior, these two exteriors are identical to each other except for the fact that the Porsche 911 R has no rear wing. But overall, they have the same bumpers, rear fenders, wheels, side skirts and mirrors.
The only thing that sets the 911 R apart is the engine lid, which has a conventional grille and retractable spoiler taken from the Porsche Carrera models. It also has a redesigned front spoiler lip and rear underbody diffuser.
Inside, the 911 R features a sporty interior with few comfort features just like the standard 911. Some other interior elements are bucket seats, Alcantara-wrapped steering wheel, and lightweight door panels.
For the 911 R, Porsche used the larger, 4.0-liter in the GT3 RS. The output is similar to the RS with 500 horsepower and 339 pound-feet of torque. The biggest change, of course, is that the 911 R shifted to a manual gearbox with no option for an automatic transmission.
The Porsche 911 R is made for race track purists, but the manual transmission came with disadvantages, too. The 0-60 mph is achieved in 3.7 seconds. This falls behind the GT3 and GT3 RS, which can complete it in 3.3 and 3.1 seconds, respectively.
The Porsche 911 R will probably sell for $120,000. Only 600 units will be produced.