2017 Porsche Boxster 718 Facelifted, Has New Energy-Efficient Engine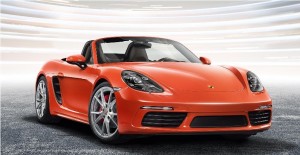 First introduced in 1996, the 1997-2004 Porsche Boxster was an entry-level, mid-engine sports car that wasn't warmly welcomed until enthusiasts slowly grew to love it. That was until the Cayenne SUV was launched in 2003.
Twenty years forward, the Boxster is receiving a facelift. According to sources, the Boxster will ditch the naturally-aspirated engine for turbocharged units much like the 911 Carrera. It will help reduce its emission and improve efficiency. It will also be the first Porsche sports car to use a four-cylinder engine in decades.
With these changes, the Boxster will now be called the 718 Boxster. This may be new to the Boxster, but this isn't new to the Germans who used the nameplate for a lightweight sports car built between 1957 and 1962.
For the exterior, every panel of the new Boxster will be redesigned, except for the luggage compartment lids, the windshield, and the convertible top. Major changes include a wider front end with a new bumper section, as well as larger side intakes, mounted LED daytime running lights, reshaped center grille, Porsche's new bi-xenon headlamps, and the optional units with four-point DRLs.
At the back, there are new taillights because of the 3D LED technology. In addition, there are four-point brake lights, a black strip with the Porsche lettering, and the 718 Boxster badge, of course.
Porsche has yet to release new details about the 718 Boxster, but it looked like it would be available in Lava Orange hue as seen on the 911 GT3 RS.
Inside, not much has changed, except that the Porsche added a standard Communication Management System featuring cell phone integration, audio interfaces, and a 110-watt Sound Package Plus.
Clients also have the option to add a navigation module with voice control, as well as the Connect Plus module for access to a wide array of online services.
The drivetrain is where Porsche made radical changes. The base 718 Boxster will have turbocharged, 2.0-liter producing 300 horsepower and 280 pound-feet of torque. The turbocharging will make the 718 Boxster 14 percent more efficient.
That base model can go 0-60mph in 4.9 seconds for manual and 4.7 seconds with the PDK. The 718 Boxster S will be more impressive, if that's even possible.
The new 718 Boxster starts from $56,000, while the 718 Boxster S retails from $68,400.