2017 Porsche Panamera To Start At $100,950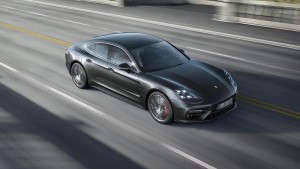 Isn't it only this week that Porsche released information about its new Panamera? We argued about the pricing, but here we are releasing details for all the world to see.
Porsche said the Panamera 4S will have a starting price of $100,950. This will even include the destination charge of $1,050.
The Panamera 4S is to be powered by a new 2.9-liter twin-turbocharged V-6 that produces 440 horsepower and 406 lb-ft of torque. Reportedly, it can go 0-60 mph in just 4 seconds when ordered with the Sport Chrono package.
But for the Panamera Turbo, you'll have to spend $147,950, including the destination fee. This one features a new twin-turbocharged 4.0-liter V-8 that can churn out 550 horsepower and 567 lb-ft of torque. To save fuel, the Turbo is also equipped with cylinder deactivation system that can shut down four cylinders under light load condition.
The Turbo is expected to reach 60 mph from standstill in just 3.4 seconds. Again, this can be done with the Sport Chrono package.
Aside from the aforementioned features, the Turbo will also be packing new three-chamber air suspension and 20-inch wheels compared to the 4S' 19-inch ones. For those looking for bigger wheels, Porsche has a package with 21 inches.
Inside, there's a four-zone climate control system that can also be controlled by rear passengers, thanks to a rear control screen that also displays infotainment functions. This is a cool addition to the already standard panoramic sunroof, massaging seats, ambient lighting, and the Burmester 3D sound system.
Furthermore, the Sport Chrono package includes a launch control, a Sport Plus button to tune the engine and chassis, an analog and digital stopwatch, and a performance display, among others.
Optional to the Panamera are the new Night Vision Assistant and InnoDrive system, which features adaptive cruise control, optimal acceleration and deceleration rates, coasting phases for the next 1.8 miles, and gear selections.