2017 Renault Koleos To Be Unveiled In Beijing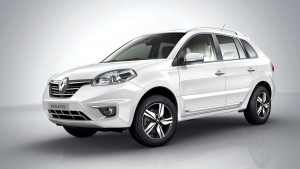 It looks like French automaker Renault will have a new replacement for the compact Koleos crossover, and it will be a seven-seater flagship SUV ready to compete with the likes of Nissan, Mitsubishi, Mazda and Honda.
Renault confirmed it will carry the Koleos name, and that it be launched at the 2016 Beijing Auto Show. The company also unveiled the first official photo of the Koleos.
On the outside, what we can confirm is that the Koleos will be 5 meters longer than the current model, which has a length of 4.5 meters. With that size, it will be the biggest Renault passenger vehicle in production.
Aesthetically speaking, it will receive the same treatment as the Renault Talisman and Mega ne. It has a rectangular shape headlights and a LED running lights underneath that is hook-like in shape.
The design will be built on the Renault-Nissan Alliance's Common Module Family, a partnership formed in 1999. The platform is also currently used for the Nissan Qashqai, Nissan X-Trail, Renault Espace and Renault Kadjar.
Inside, the cabin has that extra third row to fit seven people. This is a pretty major adjustment for the Renault. The head, hip and leg room are all pretty spectacular given the size of the SUV. But if you're worried about compartment, don't be. The one-touch folding rear seats will make sure to provide that.
The Koleos will inherit the Nissan X-Trail various drivetrain options, which include a gas-powered 2.0-liter inline-four that can produce 143 horsepower, a gas-powered 2.5-liter inline-four with 170 horsepower, and a diesel-powered 1.6-liter inline-four with 130 horsepower.
Transmission choices will include a six-speed manual and a six-speed EDC automatic with FWD as standard and AWD as optional.
Prices of the current Koleos are varied in markets, and the successor will might follow suit. In Australia, it starts at $28,490.