2017 Renault Megane Estate Shares Similarities With Nissan Pulsar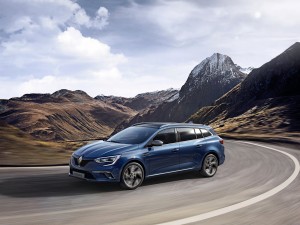 The similarities between the fourth generation Renault Megane and the 2015 Nissan Pulsar cannot be denied when the former was launched during the 2015 Frankfurt Motor Show. But unlike its Japanese cousin, the French hatchback is more exciting to look at because of its revamped DNA.
According to TopSpeed, potential buyers can take a look at the Renault Megane Estate when it makes its public debut during the 2016 Geneva Motor Show in March.
The new Megane has a GT version, which is not as powerful as the RS but has a sportier body kit and dual-clutch gearbox. This wagon version has an extra legroom for rear-seat passengers. It also has a bigger trunk, which would allow it to compete with the wagon versions of Volkswagen Golf and Ford Focus.
No details have been revealed yet about the C-segment wagon, but all the information we need would drop by March 1. For now, here's what we know about the new Renault Megane Estate:
Based on the teaser photos earlier released, the hatchback and the wagon are almost identical from nose to the C-pillar. The only difference is the longer rear overhang, allowing for a quarter window and bigger trunk. The roof, of course, has long rails for sports equipment and longer trips.
As for the interior, there's no information yet, except that it would most likely have the same sleek and gorgeous interiors as the hatchback version. This would mean Talisman-inspired features, a massive touchscreen display on the center console, large A/C vents on the dashboard, and a three-spoke steering wheel.
Renault also wants its customers to be as convenient as possible, so they included other components such as a full-color heads-up display, a seven-inch TFT instrument cluster, and an 8.7-inch touchscreen display.
Renault has yet to announce the pricing for this one, but the current model retails for $26,290 in the UK. The wagon version would most likely have a price range between $26,900 and $28,300.