2017 Subaru BRZ Series.Yellow Is Bright As The Sun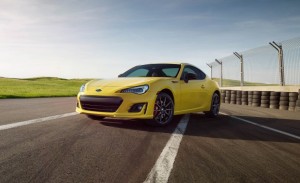 There weren't particular outward changes we can pick on when Subaru revealed its updated 2017 Subaru BRZ. The adjustments are rather comprehensive, and it would take a really good car expert to notice what were modified from its predecessor.
So, it only makes sense that Subaru chose to give the new Subaru BRZ a complete appearance makeover in terms of color scheme. Yes, the 2017 BRZ is now an eye-catching sunny yellow. Nothing can get brighter than this on the road.
And to keep up with Subaru's tradition of naming its cars based on its color, the 2017 Subaru BRZ is named Series.Yellow. Remember Series.Blue? It has a less-blue predecessor aptly called the Series.Hyperblue.
This sunny yellow BRZ Series.Yellow is more than just Series.Hyperblue in name. It borrows most of the elements we see on the previous car—blue-colored accents inside and out were replaced with the color yellow. There's the overall paint, of course, plus the yellow contrast stitching and bits of yellow cloth throughout the all-black cabin and black-painted 17-inch wheels.
What differs it from the Series.Hyperblue is the upgrade on the brakes. The Series.Yellow has Brembo rotors and four-piston calipers up front. The suspension was also changed to Sachs dampers, which would also come standard on updated units of the 2017 BRZ.
Overall, the change is rather compelling and might put experts and fans alike on tenterhooks. But then again, the Series.Yellow would hold no problem if you're okay with the bright and sunny exterior, especially if it fits your personality.
Remember, you not only have to deal with the color on the outside. The cabin is somehow yellow-ized too because of the contrast with the all-black interior.
There will only be 500 units produced of the Series.Yellow. There are no pricing details yet, but expect it to come somewhere near the price range of $30,000.
Source:
Car And Driver