2017 Toyota Highlander Boasts a New V-6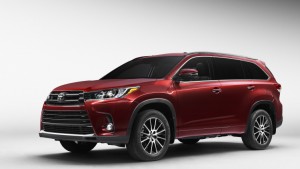 The crossover segment is getting into a tough fight this year, and Toyota's not letting their Highlander just go by without a bang. The new 2017 Highlander is expected to debut at the New York Auto Show on March 23, and will highlight some new mid-cycle updates Toyota has been boasting about.
The current Toyota Highlander has done very well in the segment. It has record gains in both 2014 and 2015 with 146,127 and 158,915 examples sold, respectively. With these upgrades, Toyota is expecting for a boost on this trend according to a report.
The new Highlander has a refreshed front grille, a 3.5-liter V-6 engine, an eight-speed automatic transmission, LE and XLE trims on the hybrid, the sporty SE trim level, and a host of other safety features on the standard variant.
It will continue offering eight seats, a choice of a four-cylinder, hybrid, or V-6 powertrain, FWD or AWD, and other optional equipment. Those who are not a fan of the minivan can get the Highlander instead—Toyota's premiere people hauler.
On the exterior, the new Highlander will change nothing from the 2016 version except for the front grille and a larger and more SUV-ish appearance. There are three new color options available—the Celestial Silver Metallic, the Toaster Walnut Pearl, and exclusive on the SE is the Salsa Red Pearl.
The SE, by the way, will also come with trim-exclusive, 19-inch alloy wheels, dark paint treatment on the front grille and roof rails, as well as smoked headlight lenses.
Inside, Toyota is offering a new brown leather color for the Limited Platinum trim. On the SE, the new black leather seats will come with silver inserts and stitching. The Highlander will still come with eight seats, thanks to second row seating. But on the Limited and Limited Platinum, the second row can turn into captain chairs.
The new Highlander will most likely have these features under the hood: 290 horsepower and 250 pound-feet of torque.
Pricing for the 2017 Highlander has yet to be announced, but expect it to start at roughly $30,990.