2017 Toyota Mirai Pricing Officially Revealed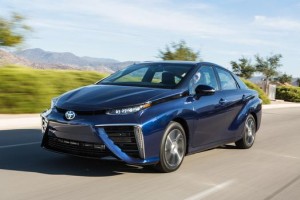 Customers may not be seeing the new Toyota Mirai in showcases anytime soon, but they can expect value pricing for the new model year. For 2017, Toyota is offering competitive and flexible price scheme options for the Mirai. This gives drivers an opportunity to be a part of the automotive industry.
The Mirai hydrogen fuel cell electric vehicle mixes hydrogen and oxygen to create the electricity that powers the vehicle onboard. The car also emits nothing but water vapor, which make it environment friendly and fuel- and power-efficient.
Furthermore, the vehicle has zero emission with an EPA estimated driving range of 312 miles. It refuels in around five minutes too.
The Mirai has an MSRP of $57,500 plus an $865 destination fee. But the good news is that Mirai owners may qualify for an $8,000 federal tax credit and $5,000 potential California rebate, as well as an access to the covered California HOV carpool lane.
Toyota furthered their Mirai trailblazer support program for eligible and qualified customers. The program aims to enhance the purchase and ownership experience by offering it for Lease, which is $349 per month for 36 months with a $2,499 due at signing. It comes with 12,000 per year mileage allowance.
There is the Trailblazer APR Support as well—0% for 60 months or 1.9% for 72 months, and the Trailblazer Purchase Support of $7,500. These charges exclude official fees, taxes and dealer charges.
The 2017 Mirai will bring a new color option called the "Atmospheric Blue" which should complement the existing Celestial Black, Elemental Silver and Nautical Blue Mirai color choices of the model.
The car continues to offer a comprehensive ownership experience, which boasts a range of world class services–three years worth of complimentary fuel, Safety Connect and Entune, three years of 24/7 customer call support, Mirai Complimentary Experience for seven days each year for three years, and standard Toyota Care.