2017 Toyota Tacoma TRD Pro Will Sell For $41,700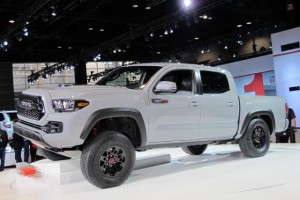 Everybody knew that the 2017 Toyota Tacoma TRD Pro will cost much, but it doesn't make it easier now that we're hearing just how much it really is.
First announced at the 2016 Chicago Auto Show, the 2017 Toyota Tacoma TRD Pro will sell for $41,700, the Japanese automaker said this week to a source.
But that's only the entry price for this off-roading pickup powerhouse, which will have a 6-speed manual transmission with plated skid and reinforced Kevlar tires. It will also have amazing suspension system and all that rock-crawling goodness combined in a sturdy off-roader.
If you want an automatic transmission, you will have to shell out $2,000 on top of the entry-level price.
No one's doubting the off-road credentials of the Tacoma TRD Pro. Ever since it was introduced at the Chicago Auto Show, experts have been looking into the upgrades Toyota fitted their pickup with.
Though we find the entry level price a bit unsettling, it might just be fair because apparently, this midsize Tacoma TRD is closely priced to the all-new Ford Raptor.
That one has a twin-turbocharged V-6 that produces somewhere around 450 horsepower, reports said.
The Raptor is being paired with a 10-speed automatic too, and it has sophisticated chassis wizardry. The new Ford off-roader will start at $49,520 for a Super Cab and $52,505 for the double cab.
These two models are in direct competition with the Wrangler Unlimited Rubicon Hard Rock off-roader, which is being sold for $42,790. That off-roader suits all kinds of terrain, as expected.
The Tacoma TRD Pro will go on sale later this month, so we'll expect to see its driver scaling some mountains after taking this out from the dealership. No further details have been released by its maker about the start of deliveries, but we are sure the next few weeks will reveal more.