2017 Volkswagen Tiguan Drops Entry-Level Price To $22,860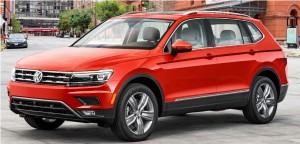 Since Volkswagen released its premium crossover called the Tiguan, many have criticized it because it's prices higher than most of its competitors and contemporaries. The German automaker announced, however, that a Limited model of the Volkswagen Tiguan will be selling for $22,860.
The Limited model is based on the previous-generation Tiguan, but will sell alongside the 2018 Tiguan that uses the MQB architecture. The 2017 Tiguan S, which was the base model, has a starting selling price of $25,860 while the new 2018 Tiguan has an even higher price tag of $26,245.
Though the 2017 Volkswagen Tiguan Limited has very basic features, it more than make up for the lower price. The 2017 Tiguan Limited model has 16-inch steel wheels, halogen headlights, 5-inch touchscreen display, rearview camera, Bluetooth, and cloth seats.
If you are not contented with these, you can upgrade it with a Premium package for $1,295. They'll get a 6.33-inch touchscreen, VW Car-Net connectivity with Apple CarPlay and Android Auto, and an HD radio. It also has leather steering wheel, keyless access with push-button start, roof rails, and cruise control.
Do you want a 17-inch aluminum alloy wheels? That would cost $495 more.
There is enough power to entice buyers to shell out their money for the 2017 Tiguan Limited. Power is sourced from a 2.0-liter turbo-four engine that can produce 200 horsepower and 207 lb-ft of torque. All the models will be paired with a six-speed transmission (the 2018 model offers an eight-speed transmission).
You should be happy to know that this new-ish model grew 10.6 inches in length and 7.3 inches in wheelbase, meaning an increased cargo space and second-row legroom. The 2018 model is much better with an improved cargo space, thanks to a third-row level.
Finishing these all up is the choice of either a front- or an all-wheel drive. This model, an alternative to the pricier Tiguan variant, will arrive soon in dealerships.