Monthly Archives:
January 2017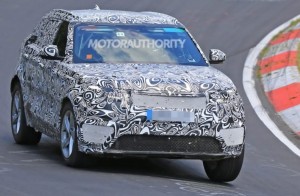 Spy shots revealed more than what we expected for the 2018 Land Rover Range Rover Sports Coupe. The sloped roof clearly seen on the spy shots is reminiscent of what BMW has done on most of its SUVs.
Although the Land Rover already has the Range Rover Evoque Coupe in its lineup, that didn't stop the British automaker's plans to introduce a second coupe-like SUV. For now, it's codenamed the L560, but we all know it's going to be called the Range Rover Sports Coupe after the more on-road-oriented Range Rover Sport.
1. No Third-Row Seating
Those who are wishing that Land Rover will come out with a seven-seater SUV will need to mend their broken hearts again. Although the looks of the Range Rover Sports Coupe is not far off from the conventional Range Rover Sport, we can already see that the roof is seated much lower. With that low sloping orientation, don't expect this SUV to have a third row for the sixth and seventh passenger.
2. Platform Is Similar To Jaguar F-Pace
Though the Range Rover Sports Coupe will be longer than the Jaguar F-Pace, it will use the same aluminum-intensive platform we have seen on the Jag. Why the larger size, you ask? The Range Rover Sports Coupe aims to bridge the wide gap between the Range Rover Evoque and the Range Rover Sport in the luxury-oriented lineup.
Apparently, the Range Rover Sports Coupe will be competing with the BMW X6 and the Mercedes-Benz GLE Coupe.
3. Four Powertrains To Be Available
For now, we're pretty sure that the Range Rover Sports Coupe will be offered with an inline-4 and a 6-cylinder. But it's also possible that at least in the United States, a new inline unit would be made available as a standard option. There are also talks that it will eventually offer an electric option similar to what Jaguar will be using for the I-Pace.
4. Photos
Here are photos showing the front, side and rear of the 2018 Land Rover Range Rover Sports Coupe from Motor Authority: