Daily Archives:
January 7, 2017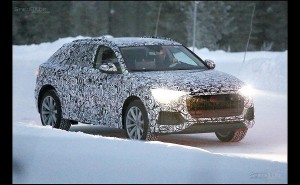 Spy photos of the upcoming Audi Q8 being tested in Finland have been revealed. While this is a concept for now (though Audi said it's the closest to the production unit that will be released), we can safely say that Audi will amaze and intrigue us once more.
We now have a pretty good idea of what the automaker will unveil at the Detroit Auto Show next week. The vehicle's aggressive stance, flat roof line, and striking grille are all welcome developments from the existing Audi Q8.
Check out our expectations from the car below:
Exterior
The Q8 has a flat roof line, which made many enthusiasts wary that the interior space may be sacrificed. Audi assures that it will not, and the car can seat four people comfortably. Outside, the Q8 features an octagonal single-frame grille that is wider than the one found on the Audi's current production models. You may even remember the 1980s Ur-quattro on the design elements used on this next-generation Q8.
The vehicle also features a flat but wide C-pillar, a prominently-displayed flared shoulders, and new sets of headlights and taillights.
Rivals
The Q8's coupe-like stance but sporty aesthetics will most likely raise the eyebrows of many models in the same segment. That being said, Audi is looking to compete with the likes of BMW X6, Mercedes-Benz GLE Coupe and Land Rover Range Rover Sport.
Similar to the Q7, the Q8 is using the Volkswagen Group's MLB platform, which was designed specifically for the chassis of front-wheel-drive vehicles with engines mounted on a longitude position.
Powertrains
The base model for the United States should be the turbocharged 3.0-liter V-6 that can produce 354 horsepower and 369 pound-feet of torque. This is believed to be paired with an 8-speed auto transmission and all-wheel drive system.
There will also be an e-plug hybrid that will likely be paired with a turbocharged 2.0-liter inline-4 with an electric motor. The two will combine to produce 367 horsepower and 516 lb. ft. of torque.