Daily Archives:
January 10, 2017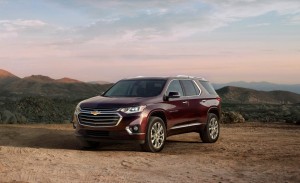 If there is any automaker that understands Americans' need for big cars, it's General Motors. From their full-size Chevrolet to GMC to Cadillac SUVs, GM made a name for themselves in the truck and crossover segment.
1. Bigger Than Its Predecessor
We're in the second generation of the Chevrolet Traverse, and it's safe to say this new one won't disappoint basing from sources. In fact, it mightily impresses. It has a wheelbase that is two inches longer than its predecessor, and is a full eight inches longer than the Acadia. This means that passengers will get to enjoy a roomier cabin—more headroom and legroom for the second- and third-row seats. That's pretty impressive because the outgoing Traverse is already roomier than any of its contemporaries.
2. Cargo Area Is Smaller Than The Current Generation Chevrolet Traverse
Unfortunately, the cargo area couldn't be bigger enough. It is smaller in dimensions. As to why, GM has yet to give out details on that. Don't fret, though, because the next-generation Traverse' 23 cubic feet space behind its third-row seating still beats that of its competitions: the Honda Pilot (16 cubic feet) and the Ford Explorer (21 cubic feet).
If you want more cargo space, you can opt not to have passengers and simply fold the second- and third-row seats. That will give you a total space of 99 cubic feet, down from 116 cubic feet on the current generation Traverse. Still, that's a pretty impressive space compared to Volkswagen Atlas' 97 cubic feet.
3. Seven- And Eight-Passenger Configurations Offered
You have options with the 2018 Traverse: either a seven-passenger seat or an eight-passenger seat configuration. The lower trim levels have three-seat benches for the second and third rows while the higher end versions sport two captain's chairs in the middle row. You'll be excited over the quick-release second-row seat that makes accessing the third row easier.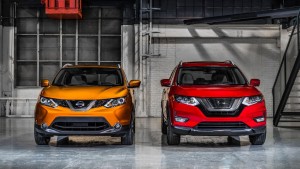 Nissan finally decided to bring its Qashqai to the American market, though it's now under the name of Rogue Sport. It has been introduced to the American audience during the 2017 North American International Auto Show, and is slated to fit in between the Juke and the regular Rogue.
If you are familiar with the Qashqai, the Rogue Sport is no different from that based on a source. It has the same features and exterior design. The Rogue Sport nameplate is only available in the United States. In Canada, it will still be called Qashqai.
1. Smaller Than The Regular Rogue
In terms of design, we can expect the Rogue Sport to be very similar and close to the European Qashqai. That means it will be smaller than the regular Rogue to appeal to urban dwellers, who are usually stuck in heavy traffic and small roads and parking spaces.
Even the interior bears resemblance to the Qashqai. It has a three-spoke steering wheel, Nissan's touchscreen infotainment system, and loads of equipment from the regular Roque.
2. Rogue Sport S Comes With Standard Features
The entry-level Rogue Sport S has the standard LED running and taillights, 16-inch wheels, backup camera, Bluetooth, and satellite radio.
3. Rogue Sport SL And SLE Get More
If you want a better-looking Rogue Sport, you can check out the SL trim level. It has 17-inch wheels, push-button start, roof rails, dual-zone auto climate control, a power driver's seat, and a six-speaker sound system.
As for the flagship SLE, it gets 19-inch wheels, a 360-degree SurroundView camera system and navigation, remote start, fog lights, heated mirrors, leather seats, and a heated steering wheel.
It comes with a CVT system with eco-mode, and buyers can choose between a front- and all-wheel drive. For now, only one engine is available: a 2.0-liter naturally aspirated inline-four that produces 141 horsepower and 147 pound-feet of torque.