Daily Archives:
January 14, 2017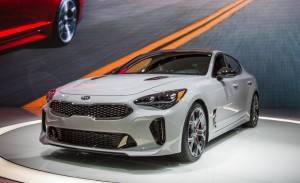 During the 2017 Detroit Auto Show, Kia unveiled its 2018 Stinger. Not to be mistaken for the K900, the Stinger is much sleeker and sportier. There are no pricing details for the Stinger, but we'll expect more details in the coming weeks.
Here are the three things we know about the auto so far based from a report:
1. It Is Getting Two Gasoline Options
In the United States, there are two gasoline options. In Europe, a diesel option may be made available. The decision to bring a diesel option to Europe is purely market based. Sorry, American buyers, the diesel option is not going to be brought to your shores.
The range-topping model is going to be the 3.3-liter V-6 engine that produces 365 horsepower, though there is also the entry-level engine—a 2.0-liter four-cylinder engine that churns out 255 horsepower. Standard to both models is the eight-speed automatic transmission. Buyers will be able to choose between an all-wheel and a rear-wheel drive.
2. The Design Is Aggressive
The Stinger is not prototype Kia. At first glance, it might even look like an Alfa Romeo. The "tiger nose" grille was not the one that separates the Stinger from other sedans in the market. It's that low stance and muscular proportions that effectively distinguishes this model from anything that Kia made before.
With 190.2 inches of length, it is 4.1 inches longer than one of its competitors, the Audi A4, and it is 5.7 inches longer than the Mercedes Benz C-Class. It also has an 114.4-inch wheelbase, which is longer than any of its competitors.
3. Generous Equipment Should Be Expected
The cabin is home to a number of technologies available in the South Korean market. It has a wireless device charging station, navigation, and 7.0-inch touchscreen. Safety features for the drivers include adaptive cruise control, automated emergency braking, and a head-up display. For music lovers out there, you can opt for the Harman/Kardon audio system that has 15 speakers and subwoofers beneath the front seat.