Daily Archives:
January 16, 2017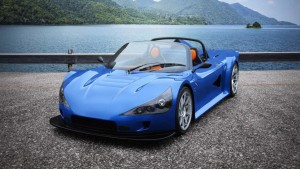 Avatar is a British sports car startup that has just introduced its very first production car—the Avatar Roadster. The sports car packs a Ford EcoBoost engine and its spaceframe chassis. Not bad for a first car, though it's a little steep on the prices.
According to a report, this particular model will make its live appearance at the 2017 Performance Car Show in Birmingham, UK. It's interesting how the production came about when Avatar just introduced its prototype last year. That was some pretty fast engineering.
1. Ford EcoBoost Engine Is The Base Model
Possibly the base model, the initial stage of the Avatar Roadster packs the 2.0 turbocharged Ford EcoBoost engine that packs 250 horsepower (186 kilowatts), which we now see is similar to the Ford ST credits. It has a dry weight of just 695 kilograms (1,532 pounds), allowing the Roadster to go 0-60mph in four seconds. The maximum speed is 145mph.
2. Focus RS Has More Power
If you are looking for a stronger engine, you may want to look at the Focus RS-based model that has a 2.30liter turbocharged that can go 0-60mph in just 3.6 seconds. This is paired with a six-speed manual transmission or the optional seven-speed paddle-shift sequential racing gearbox.
3. Interior Is Packed To The Brim
The lightweightedness of the vehicle makes us think that it will simply pack the standard interior features, but we are wrong. The Avatar Roadster has a techy and modern interior that is also comfortable, thanks to the full-leather interior, heater, and air conditioning.
As for the tech stuff, it comes with the Apple CarPlay and the Android Auto in standard trim. If you want the roof, you will have to pay extra for that. Avatar also boasts of a full suite of "pure track experience." The package includes fire extinguisher, data logger, and GoPro HD camera compatibility.
The Avatar Roadster will be sold for £39,990 ($48,603).