Daily Archives:
January 19, 2017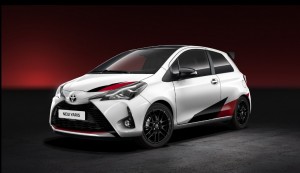 There are few vehicles in the history of automobiles that has a race car tag and Toyota's logo on it. It just doesn't happen that way. Instead, the Japanese automaker is known for efficiency, affordability, and reliability.
Recently, Toyota announced that a new Toyota Yaris is on the works, and that it will be revealed at the 2017 Geneva Motor Show in March. That's pretty exciting for those who cannot wait to get their hands on a new hatchback from the Japanese automaker.
Here's what we know about the car so far based on a source:
1. Exterior And Interior
According to hints and sources from Toyota, the new Toyota Yaris will gain a new front and rear styling (possible a new bumper or fascia). There will also be a modernized interior with a host of upgraded technologies to improve the handling and driving capability. Comfort and handling are two things that Toyota never compromise on.
2. Power
The 2018 Toyota Yaris will be more powerful at its full capacity of 210 horsepower. That's faster than most sedans in the market today. That's also pretty impressive, considering that the Yaris is only a hatchback and could not haul anything at all.
The range-topping Yaris will loosely be based on the three-door version. The 201 horsepower is not bad at all. Right now, the most powerful Yaris can produce 106 horsepower and 103 pound-feet, thanks to the 1.5-liter four-cylinder engine.
3. Handling
Aside from the horsepower it can produce, there's not much we know about the 2018 Toyota Yaris. The Japanese car maker has yet to release specifications of the new engine, or whether there will be a new upgrade.
What's clear is that Toyota wants the new Yaris to have a sportier appearance and performance. To do that, Toyota must add a bespoke, quick-shifting transmission. We also expect the Yaris to come out with a more muscular chassis that can deliver a sportier driving experience.