Monthly Archives:
January 2017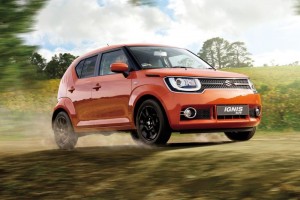 It is not easy to stand out in the compact car segment, but it looks like the 2017 Suzuki Ignis is doing just that. Reviving what it calls the "light SUV," Suzuki combines the charm and functionality of a truly compact SUV with the customization option you thought you'll only find in the expensive Mini.
Here are the key features of the auto:
1. Customizable
One of the unique things about the Ignis is that it's completely customizable. Just like the Vitara, you can choose what style you want your Ignis to have. Here are some options: grille, fog light bezels, and alloy wheels in white, orange, or blue; and mirror caps in white, orange, blue, red or black.
That's only for the exterior. Inside, there's another personalization kit you can choose. It's a kind of a mix-and-match style we can only find in the Mini, though the Ignis offers this at a way lower price bracket. It also has a faster delivery since every customizable element has been dealer-fitted.
2. Spacious Enough
The space inside is generous for its width. There is plenty of headroom because of the tall roof, but front-row passengers will be more intimately seated close than in the regular-sized SUVs.
3. Affordable
The Ignis has a base model price of just $15,990, which is way, way below the average price we usually spend on compact cars and SUVs.
4. Simple
There are only two models to choose from—the entry-level GL with the option for a five-speed manual transmission or CVT automatic or the upscale GLX with the CVT automatic.
The GL has the following features: standard fabric seat trim, cruise control with speed limiter, leather-wrapped steering wheel, halogen headlights and fog lights, and 15-inch steel wheels with full wheel covers.
The GLX, on the other hand, packs these: keyless entry and start, electronic climate control, LED headlights, privacy glass, a height-adjustable driver's seat, and 16-inch alloy wheels.
5. Decent Power
In terms of power, there is not much there, actually. The GL and GLX are both powered by a 1.2-liter four-cylinder petrol engine that produces 66kW and 120Nm of torque.