Monthly Archives:
February 2017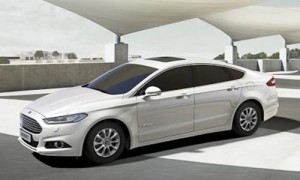 A Ford Mondeo Hybrid will be given away at the 2017 Geneva Motor Show. In just four quick steps, one could become lucky enough to drive home the car.
According to the official website of the Geneva International Motor Show, SwissEnergy will once again be a presenting partner in the event. The group will feature its c02auplancher there.
co2auplancher is supported by movi-mento.ch. It is a campaign that aims to raise awareness about the benefits of using energy-efficient vehicles with at least an "A" rating. It also promotes vehicles with carbon dioxide emissions not going more than 95 g/km.
How to Win the Contest
Here are the 4 easy steps needed to win a Ford Mondeo Hybrid during the Geneva auto show:
Step 1: Download the App
The first step is to download the Salon Car Collector app with your smartphone. The app works with iOS and Android devices. It can be found on the App Store and Google Play.
Step 2: Attend the 2017 Geneva Motor Show
Attend the 2017 Geneva Motor Show. The show runs from March 9 to 19, 2017. At the venue, make sure that the Bluetooth of your smartphone has been activated.
Step 3: Look For Energy-Efficient Vehicles
Watch out for fuel-efficient vehicles with low CO2-emission ratings. It does not matter if the auto runs on petrol, fossil fuel or electricity as long as it falls on the abovementioned category. Get close to each car and scan it with your phone.
To help you quickly identify the fuel-efficient and low emission vehicles, you can use the information provided by the official website of co2auplancher.
Step 4: Collect Cars and Fill Your Passport
Using your smartphone, find as many cars as you can that fall into the category. The more you can identify, the more chances you have of winning the contest and taking home the coveted Ford Mondeo Hybrid.