Monthly Archives:
April 2017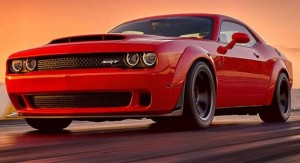 The Dodge Challenger SRT Demon was recently launched at the New York Auto Show. Its maker boasts that the product has the highest horsepower, G-force, zero to 60 mph acceleration and 1/4-mile sprint in a production car.
The SRT Demon features significant changes compared to the Hellcat. Under the hood of the car lies a 6.2-liter supercharged V8 engine. It may be the same as the unit carried by the Hellcat but the Demon offers significant improvement thanks to its new pistons, rods, supercharger, valve train and fuel injection system.
The upgrades provide the Demon an output of 840 hp and 770 lb-ft of torque. Now that's the part where the critics are complaining.
According to a report from Automotive News, they are arguing that the power of Fiat Chrysler's latest creation might endanger motorists. Thus, they are saying that its registration as a road-worthy car should be banned.
The article claimed that although the Demon was built as a drag racer, it has been banned by the National Hot Rod Association for being "too fast". That further strengthens the group's call for the car to be prohibited in the roads.
With all due respect to the source, it should be noted that the Federal Motor Vehicle Safety Standards allows the Demon's registration for use in public roads. Its maker might have pushed its performance to ridiculous and impractical levels, but again, it is still within the limits set by regulatory bodies.
The people opposing the Demon's road-worthiness should instead focus more on the key safety features of the auto rather than just basing their arguments on engine power alone. On the issue that people might be tempted to put the pedal to the metal on the Demon, that is already within the discretion of the driver. Some examples to reduce instances of the vehicle falling into the wrong hands is that the critics should call for the stricter issuance of driver's license to people and there should be implementation of mandatory training programs for supercar owners.