Monthly Archives:
May 2017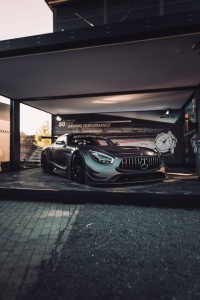 The Mercedes-AMG GT3 Edition 50 was just unveiled. As its name implies, the car was made in line with the celebration of the 50th anniversary of AMG.
The special edition car offers many upgrades compared to the standard Mercedes-AMG GT3, which makes it a must-have for collectors. Here are the key features of the vehicle that truly makes it awesome:
1. Engine
The Mercedes-AMG GT3 Edition 50 still uses the 6.3-liter naturally-aspirated V8 engine. The unit is capable of producing 622 hp and 635 Nm of torque. The power is distributed through a six-speed sequential racing transmission. The mentioned elements allow the auto to sprint from zero to 100 km/h in merely 3.8 seconds. The maximum speed of the vehicle is electronically-limited to 332 km/h.
It should be noted that the 6.3-liter V8 used by the AMG GT3 is already a rare hardware and it is the last naturally-aspirated engine to be used by Mercedes in its cars. It was used by the Mercedes-Benz SLS AMG GT3 but the Mercedes-AMG GT3 carried it over due to its reliability, low-maintenance and power.
2. Styling
The Edition 50 car sports a more aggressive look than its original version. It is fitted with new carbon fiber materials plus its bumpers, side skirts, diffuser and rear wing have been redesigned. The body of the auto takes a gray metallic finish. The noticeable additions in the special GT3 include the big vents above the front fenders and "50 Years of Driving Performance" badges on the sides.
Inside, the car gets new carbon fiber racing seats, rollcage and GT3-inspired, racing steering wheel. A couple of upgrades can be seen in its instrument cluster too. The same "50 Years of Driving Performance" badges can be found in its safety harnesses.
3. Exclusivity
The Mercedes-AMG GT3 Edition 50 is only limited to five units. It is specifically made for collectors who love motorsport.
Photos
Check out the photos of the Mercedes-AMG GT3 Edition 50 in the gallery below: