Daily Archives:
May 7, 2017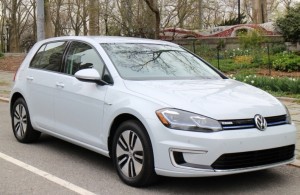 The 2017 Volkswagen e-Golf is VW's only entry to the electric vehicle segment in the the US market. The German car boasts a long range and a pretty decent output.
Recently, Green Car Reports took the EV for a test drive at the Grant's Tomb located in Manhattan's Upper West Side in New York. Below are the top 3 features of the e-Golf based on the review:
1. Power
The Volkswagen e-Golf runs on a 100 kWh electric motor powered by a 35.8 lithium-ion battery pack. The output of the unit is 134 hp with 214 lb-ft of torque. It's older model possesses 115 hp and 199 lb-ft of torque.
The output of the new e-Golf allows it to sprint from zero to 60 mph in just 9.6 seconds. That's a second quicker than the older model. The source noted that they could not sense any difference from its earlier version's acceleration time though.
2. Range
The combined EPA-rated range of the auto is 125 miles. It is a significant increase compared to its predecessor's 83 miles range.
The charging of the vehicle takes less than six hours in a 240-volt Level 2 charging station. Using the DC fast charger of the SE and SEL premium models, and as optional add-on on the e-Golf S, an 80 percent charge can be attained in around an hour with a CCS charging station.
The article showed admiration to the engine of the EV for being quiet. The auto was also praised for its smooth handling during acceleration and while being reversed for parking.
3. Design
The VW e-Golf is basically a VW Golf fitted with electric motor. So everything from the exterior to interior design of the e-Golf and the standard Golf is the same.
2017 Volkswagen e-Golf Test Drive Photos
Check out some of the photos of the Volkswagen e-Golf while it is being taken for a spin in the gallery below: