Daily Archives:
May 9, 2017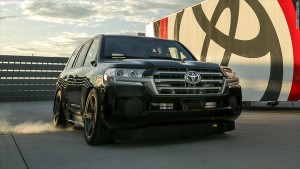 The Jeep Grand Cherokee Trackhawk is hailed as the most powerful American-made sport utility vehicle. However, the Toyota Land Cruiser just snatched the distinction of being the world's fastest SUV.
The 2017 Toyota Land Cruiser carries a 5.7-liter V8 engine. The unit produces 381 hp and 401 lb-ft of torque. The power is distributed to all four wheels of the vehicle via an 8-speed automatic gearbox with manual shifting mode. The configuration of the auto allows it to sprint from zero to 60 mph in just 6.7 seconds and gain a top speed of 130 mph.
However, the Land Cruiser that we are referring here is not the standard type. According to a report from CNN Money, Toyota modified the vehicle by adding two turbochargers in its power unit, among other upgrades. The result was a massive 2,000 hp under the auto's hood. The max speed was also increased to more than 200 mph. To complement the engine boost, the automaker lowered the SUV's suspension and installed wider tires tires for it. The Land Cruiser was rechristened as the Land Speed Cruiser.
Carl Edwards, a former driver for NASCAR, took the modded Land Cruiser for a drive to see how fast it can go. He cruised through the 2.5-mile runway of the Mojave Air and Space Port in California with the vehicle during testing.
On the first run of Edward, he was able to take the Land Speed Cruiser up to 211 mph. After that, the engineers tinkered with the turbocharger of the auto to boost its power. With that, it achieved 230 mph on its next run, making it the fastest SUV in the world.
It should be noted though that the Bentley Bentayga remains as the fastest unmodified production SUV in the world. In 2015 the maker of the auto announced that they were able to take achieve 187 mph with the vehicle.