Daily Archives:
May 10, 2017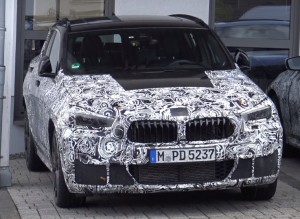 The BMW X2 was spied as it was being tested in Nurburgring. The sport utility vehicle is expected to make its way in the market by early 2018.
The X2 is BMW's answer to the Mercedes-Benz GLA, Audi Q3, Range Rover Evoque and Infiniti QX30. Its starting price is estimated to cost around $38,000.
So far, details about the 2018 BMW X2 are still scarce, but here are its key features based on sources and hints depicted in spy shots plus the video you are about to watch below:
Exterior
The X2 obviously sits between BMW's X1 and X3 models. The crossover is expected to put more emphasis on its styling than its practicality.
Taking many of its coupe-like design elements from the BMW X2 Concept, the production model of the vehicle will have steeper windshield, higher beltline, as well as lower and more curvaceous roofing.
The X2 will share platform with the X1. Therefore, it will be carrying the UKL architecture of its maker, which features front-wheel drive system and transverse engine layout. Since the platform also supports an all-wheel drive system, the X2 might get it too.
Interior
For now, it is hard to make out the interior design of the X2. It will possibly get the same treatment as the X1 though. It seems the X2 has prioritized space over style so it will probably have less legroom than the X1.
Engine
The BMW X2 will likely take the same engine possessed by the X1. That is a 2.0-liter inline-four power unit. The engine is good for 228 hp. However, look forward to an increase in its output in the X2.
Look forward to the SUV's "M Performance" model also. BMW might match the power of the auto with a six-stick or eight-speed automatic transmission gearbox like the X1.
Video
Check out the new spy video of the BMW X2 here: