Monthly Archives:
June 2017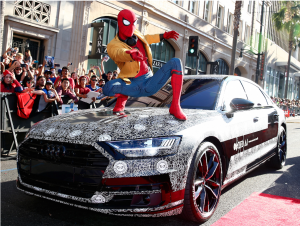 Last Wednesday in Hollywood, California, the much-awaited movie "Spider-Man: Homecoming" made its world premiere. Capitalizing on that event was Audi with a live preview of its next-generation luxury sedan, the 2019 Audi A8.
Audi has been very secretive about the the A8. As we have said in our previous report, the car replaces the A6. The auto will be heavily-based on the 8-Series Concept shown at the 2017 Concorso d'Eleganza Villa d'Este.
In the photo above that was featured in Business Insider, the superhero Spider-Man is seen posing on the hood of the Audi A8. Despite the heavy camouflage of the prototype, it already gives us a better picture of the luxury car's design.
The A8 appears to be sporting a new grille design as well as more advanced headlamps. A subtle adjustment in the styling of the bumper compared to the A6 is also evident. From the camouflaged prototype in the event, the A8 looks like it has a lot of features that we should be excited about.
According to the source, the A8 will be officially unveiled at the Audi Summit that will be held on Barcelona, Spain on July 11. For those who cannot wait for the debut of the car, rest assured that we will be on the lookout for possible leaks before its public launching.
The A8 will hit showrooms by next year. It will bear a 2019 model year.
The report said that the A8 will center on its maker's active suspension system and it will have a mild hybrid setup. The car will be one of the automaker's first vehicles to offer a fully-active, electromechanical suspension paired with a 48-volt electric power source.
All A8 models will likely carry six, eight or 12-cylinder engines. Partnered with an electric motor to deliver a hybrid power, the auto is expected to get a lot of horsepower.
In terms of technology, one of the key highlights of the A8 is Audi's new infotainment technology, which will be more advanced than the brand's virtual cockpit interface.
In addition, the on-board cameras of the car located in front can process new information and road conditions up to 18 times per second. The system will guide each corner of the car individually with its series wheel-mounted electric motors.
Lastly, the A8 comes with a rear-wheel steering function to deliver better high-speed stability and improve its maneuvering at low-speeds.