Monthly Archives:
July 2017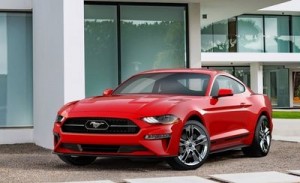 Although the Chevrolet Camaro ZL1 remains on top of everybody's list of their favorite muscle cars, Ford is not backing out without a fight as it revealed its sixth-generation Mustang with rear suspension and elegant interior. Compared to the Camaro, the new Ford Mustang has more power, options and features.
The Mustang EcoBoost is driving away from using a V-6 engine and now has a four-cylinder engine as Ford's entry-level Mustang. The starting price is $26,485, an increase of a measly $400 compared to the entry-level Mustang last year that still packed the ratty V-6 model. The 2.3-liter engine can produce 310 horsepower and 350 pound-feet of torque.
The GT version, which has displacement and aural theater, costs $35,995. Powered by a 5.0-liter V-8 engine, the GT version of the 2018 Ford Mustang is priced $1,900 more than the 2017 Mustang GT, though that means 460 horses and 420 pound-feet of torque. That's 25 more horsepower and 20 more pound-feet of torque. The power that comes from the V-8 engine can top the Camaro SS V-8, further fueling the competition between the two brands.
If you prefer the convertible versions of both the EcoBoost and the GT models, you can shell out $5,500 more for the EcoBoost and $9,500 more for the GT.
Regardless of your choice for powertrain, you can opt for Ford's 10-speed automatic transmission for $1,595. The interior of both muscle cars can be upgraded to a Premium model whose price will be in the vicinity of $4,000 to $5,000. The Premium interior will bring an Apple CarPlay, Android Auto, an 8-inch touchscreen infotainment system with Sync 3, selectable driving modes, aluminum interior trim, leather-trimmed seating, and 18-inch wheels on the EcoBoost models.
Aside from the Premium package for the cabin, there's also a Performance package for those who want more power. EcoBoost owners can pay an extra $2,495 for an additional 3.55:1 Torsen limited-slip rear end, larger radiator, revised chassis tuning, 19-inch aluminum wheels, and upsized brake discs with four-piston calipers.
GT model owners, on the other hand, need to shell out $3,995 more. Aside from the EcoBoost Performance package, the GT will also get 19-inch wheels, the 3.73:1 Torsen differential for stick-shift cars, and Brembo six-piston front brakes.