Daily Archives:
August 25, 2017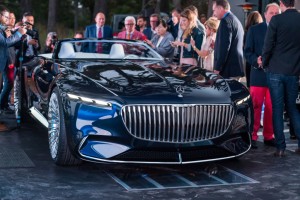 If there was any one reason to visit the prestigious and exclusive Monterey Car Week in California, this was it—the Vision Mercedes-Maybach 6 Cabriolet.
When you first look at it, you'll probably think about a shorter version of the Vision Mercedes-Maybach revealed during the Pebble Beach Show last year. And yet, for the life of us, we know there is so much more about this year's version. And we were not wrong.
On the outside, the Vision Mercedes-Maybach 6 Cabriolet looks like a Riva speedboat, thanks to its angular rear end that seems to just end without so much as a peepshow of a trunk. Some said it even looks like a pen; a very exclusive and expensive one at that. What's bothering us is the fact that the Vision Mercedes-Maybach 6 Cabriolet is 5.7 meters in length and 2.1 meters in width and yet, somehow, Mercedes just find enough time to put in two seats there. That's a lot of excess space, if you ask us, but there is a method to this madness, of course.
Whatever space it might have for more passengers, it has to give up for the massive center-locking 24-inch wheels and four electric motors that are powered by an underfloor battery pack. It can power up to 740bhp with its four-wheel drive system. The electric motors are powerful enough to go from 0 to 62 mph in sub-four, and the battery pack is good for a range of 310 miles.
Maybe you're excited about the headlights or the grille, but the true luxury astounds you once the white fabric roof with interwoven rose gold threads reveal what's inside: crystal white nappa leather, a full-width digital display, and illuminated buttons stitched into the seats. The center tunnel looks like it's floating and transparent (blue fiber optic lights show the car's energy flow).
This is a concept, or a vision, for now, but we do hope Mercedes engineers would put its heads together and just turn this into a production car.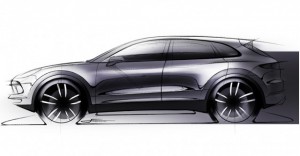 The debut of the much-awaited 2018 Porsche Cayenne will be on August 29. By the end of this year, it is expected to start production for a possible 2019 market release.
Why are we not surprised? It has long been rumored that there will be a 2017 introduction of the all-new Cayenne, along with some more information about the SUV's diesel powertrains. During the debut, the 2018 Cayenne will be expected to unveil a single- or twin-turbocharged V-6 engines while a turbocharged V-8 engine will make rounds during the 2017 Frankfurt Motor Show.
Porsche will make use of Volkswagen's highly-touted MLB platform for the 2018 Cayenne, which it will now be sharing with other VW Group products such as the 2017 Audi Q7, the Bentley Bentayga, and the 2018 Audi Q5. Luxury car Lamborghini Urus SUV is also expected to use the MLB architecture.
What's good about the MLB platform? It offers lighter weight, improved fuel efficiency, and greater rigidity. Because of the architecture, the 2018 Cayenne is expected to shed off around 220 pounds in curb weight.
Though there are new information about the diesel powertrains that the Cayenne will come with, the development of these particular drivetrains might have to be delayed. We might not be able to see the option in the United States, but new regulations in the European market would demand for its launch. But since Volkswagen is still dealing with governments and regulators regarding the diesel scandal, Porsche would have to backtrack a bit and push the introduction of the diesel powertrain to the future.
The skyrocketing fuel prices in Europe will, of course, push Porsche to hasten the release of their vehicles' diesel options. A Porsche source said there's no way the Europe market would switch to gasoline cars.
In the United States, Porsche is expected to release the 2018 Cayenne S E-Hybrid, which will be able to produce 680 horsepower.