Monthly Archives:
September 2017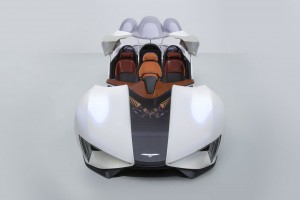 We couldn't help but get impressed when the Mercedes-AMG Project One concept was finally unveiled at the 2017 Frankfurt Motor Show. Mainly, it was because of the hybrid hypercar's more than 1,000 hp output. However, another hybrid supercar called the Techrules Ren seems to be poising to challenge it.
Actually the Ren was introduced ahead of the Project One. It came out during this year's Geneva Motor Show. It was developed by the Chinese-based startup Techrules. It has a very wild design, unusual hybrid setup and more than a thousand horsepower output.
Design
The Techrules Ren follows the modern shape of the present hypercars like the McLaren P1 and Porsche 918 Spyder, but with a mix of a futuristic touch into it. According to TopSpeed, Fabrizio Giugario, the car's designer, said that the auto is defined by its fighter jet-style canopy and unique modular three-cockpit design.
From the photos provided by the source, the driver's seat of the car is flanked by the two passengers' seats. Then, the upper enclosure of the car slides rearward similar to the canopy of a jet. Techrules describes it as a "one door body style".
In front, the Ren's nose is highlighted by its long hood and massive air intakes. Behind it is a fin in the center, wide diffuser, tail lip, and huge air exhausts that resemble an aircraft's turbine.
Powertrain
Techrules revealed that the car runs on its innovative Turbine-Recharging Electric Vehicle (TREV) powertrain. The turbines are powered by diesel fuel. It produces electricity that juices the battery pack of the auto, which then drives the power rear wheels.
The automaker plans to offer two-, four-, and six-motor configurations for the car. The range-topping model of the vehicle promises to deliver up to 1,287 hp and 1,725 lb-ft of torque. The figures are enough to propel the supercar from zero to 60 mph in just 2.5 seconds. Its top speed is about 200 mph.
Techrules said that the electric range of the Ren will be 124 miles. On the other hand, its fuel consumption is around 31 mpg.
Delivery
Techrules stated that the deliveries of the Ren will start next year. Orders for it are already open for interested buyers.