Daily Archives:
September 27, 2017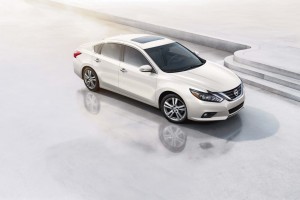 Last year, the Nissan Altima range had a lineup of about seven vehicles. This year, the Japanese automaker trimmed down the number to five, eliminating the base and the high-end models of the car. There are no significant changes in the remaining five models, except for some safety features that are now standard to all models.
What safety features are we talking about? Automated emergency braking and forward-collision warning are now the standard features of all models while standard adaptive cruise control and NissanConnect, including navigation, Apple CarPlay, and Android Auto, will come with the top-level 3.5 SL.
Since the base model was officially eliminated from the range, that means the new base model will be higher in price—about $240 higher, which isn't at all much of an increase considering what you're getting. The 2.5S will be powered by a 2.5-liter four-cylinder, continuously variable automatic transmission (CVT) combo that can produce 179 horsepower. It will sell for $24,025.
The 2.5 SR, on the other hand, will be cheaper than last year's model. At only $25,085, it will get a pair of smoked headlights and taillight housings. It will also come with fog lights, a decklid spoiler, a power driver's seat, manual shifting capability for the CVT, paddle shifters, leather-bound steering wheel and gearshifter, sport-themed trim, a tweaked suspension, and a pair of special 18-inch wheels.
If you are looking for more features, you may want to get your hands on the 2.5 SV, which will come equipped with adaptive cruise control, rear cross-traffic alert, blind-spot warning, Android Auto, and Apple CarPlay for just $26,670.
Next up are the 2.5 SL and 3.5 SL, which aside from being leather trimmed, will come with a seven-inch touchscreen with navigation and heated steering wheel and front seats. The four-cylinder model will sell for $29,880 while the V-6 engine will have a price tag of $34,395.
Prototypes for the 2019
Ford
Ranger have been spotted, and
spy photos
prove that the new model will be an "extensive update" of the current model rather than being redesigned for a next-generation model. Ford enthusiasts will not miss out on the aesthetics of the current model since the "new" design will be all too familiar.
1. T6 Platform To Be Used
The US version will differ slightly from the versions that will be sold overseas. According to reports, the 2019 Ranger will differ mechanically and visually, though the size and shape should still be the same—based on a body-on-frame platform codenamed T6.
The T6 platform is being used both by the current Ranger and the Everest model. Along with the new Ranger, Ford engineers are also working on a brand-new Everest. Most of the development are being handled in Ford's Australian outpost.
2. Gas Options Available
There is no word yet on what kind of engines we'll see under the hood of the new Ranger. The current one is being powered with two diesel engines: a 2.2-liter inline-4 that can produce 158 horsepower and 284 pound-feet of torque and a 3.2-liter inline-5 with 197 horsepower and 346 pound-feet of torque.
For the US market, it is more than likely that the 2019 Ranger will be offered in gasoline options. Yet, we're still expecting for diesel engines to come and save the day.
3. Ranger Raptor In The Horizon
There are rumors that Ford is working on a new Ranger Raptor as well, but the American automaker has been very silent about the details. The powertrain will most likely be a detuned version of the F-150 Raptor's 3.5-liter twin-turbocharged V-6. Will it be available in the US? We don't have word on that yet.
4. Rivals And Launch Dates
The 2019 Ranger will be introduced early next year. It will compete with the Chevrolet Colorado, GMC Canyon, Honda Ridgeline, Nissan Frontier and Toyota Tacoma.