2018 Aston Martin Vanquish S or the Maserati Granturismo?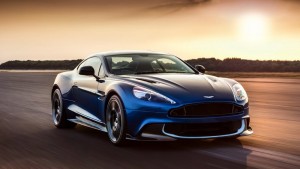 Aston Martin has given its Vanquish S a more extensive facelift for the 2017 model year. This was done during the 2016 Los Angeles Auto Show, where the Vanquish S was showed with notable updates on the outside, as well as a more powerful engine under the hood.
According to a report, the updates on the exterior make the Aston Martin Vanquish S stand out from the current model, which will bow out after this upgraded version. The most noticeable change is the new aerodynamic package that includes an exposed carbon-fiber front splitter and rear diffuser. There's also a new quad exhaust outlets, a new Vanquish "S" badge on the tailgate, carbon-fiber hood louvres, forged five-spoke "diamond-turned" wheels, and "striking painted graphics." The paint job combines yellow stripes over green paint, red over white, and orange over blue.
In terms of designs, this is going to compete with the Bentley Continental GT Speed and the Ferrari F12berlinetta.
Aston Martin also upgraded the V-12 engine to produce 592 horsepower, the exact same output by the limited edition Vanquish Zagato. What Aston did here is to upgrade the Vanquish's 5.9-liter engine to Zagato specs. It now has an extra 24 horsepower while the torque will remain at 465 pound-feet of torque.
This upgrade enables the Vanquish S to go 0 to 62 mph in just 3.5 seconds. Top speed, however, remained at 201 mph. Aston Martin also tweaked the 8-speed Touchtronic III transmission. It can now deliver faster gearshifts and greater refinement even at low speeds.
The new Vanquish S will be sold for £199,950 in the United Kingdom, €262,950 in Germany, and $294,950 in the United States. Deliveries of the car will begin this December.
Maserati Granturismo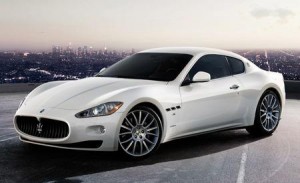 Although launched in 2007, the Maserati Granturismo can still compete well with the Vanquish S. It gets its power from a 4.7-liter V-8 engine, with the most powerful version able to churn out 453 horsepower and 384 pound-feet of torque. It can go from 0 to 62 mph in 4.5 seconds, and has a top speed of 188 mph.
It is not as fast as the Vanquish, but it can certainly challenge it when it comes to craftsmanship, luxury and options. The Granturismo is also more affordable at $150,570.