2018 Audi R8 V10 RWS Sets New Standards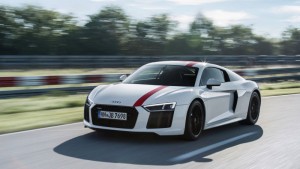 The 2018 Audi R8 V10 RWS looks to be the reason why Audi decided to rename its performance division from Quattro GmbH to Audi Sport. It's definitely nothing like any model the Quattro came up with. The 2018 Audi R8 V10 RWS is on a whole new spectrum of its own with the RWS actually standing for Rear Wheel Series.
So, the 2018 Audi R8 V10 RWS is going to have a rear-wheel-drive setup, something that we might see in future high-performance Audis seeing as what RWS stands for. That's nothing new to enthusiasts, of course, though it's still a a missed opportunity if Audi will not come up with another vehicle that sends torque to its rear wheels.
Exterior and Interior
Visually, the second-generation R8 looks menacing. It has a matte black grille and front and rear airflow openings, as well as a gloss black upper side blade on the coupe. For coupe owners, you'll also get a chance to have that red vinyl trim stripe that extends from the front left to the right rear. Capping everything off are the massive black 19-inch wheels wrapped in 35-series rubber.
Once inside, you'll see that the R8 RWS received sport seats (standard on all trim levels).
Power
The R8 RWS will pack a power of 540 horsepower, which is enough to match the base R8 V10 Quattro but not the 610 horsepower of the R8 V10 Plus. The R8 RWS will use the naturally aspirated 5.2-liter V-10 engines. Since the car is not being offered in an all-wheel drive configuration, this means that the car will be a little lighter in weight and there will be less mechanical drag in the powertrain. By comparison, the all-wheel-drive R8 has a curb weight 3,615 pounds, according to Audi.
The R8 RWS can go 0 to 62 mph in just 3.7 seconds. The top speed is put at 199 mph on the coupe and 198 mph on the Spyder.
There will only be 999 units of the Audi R8 V10 RWS available. It will probably be less expensive than the R8 V10 Quattro, which is being sold for $31,000 in Germany.