2018 Audi S5 Cabriolet Head On Against the BMW 4 Series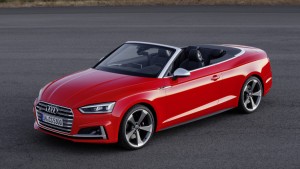 Audi has recently unveiled the 2018 S5 Cabriolet, which will be a soft-top iteration of the A5 lineup. In a nutshell, this update will have larger dimensions, tweaked styling, more sleek interior with high-tech gadgets, turbo-six cylinder and updated rear suspension.
On the outside, the 2018 Audi S5 Cabriolet has reshaped the three-dimensional Singleframe grille. It is now shorter and wider. It also has reshaped headlights, with Xenon elements as standard, to have that slimmer appearance compared to the previous generation. If you're unimpressed with the headlights, you can opt for the LEDs and matrix LEDs with dynamic turn signals for the front and rear.
Dimensionally, the new S5 is larger at 184 inches with the wheelbase extending to 108.9 inches and the track to 62.5 inches wide in front and 61.7 inches wide in the rear. Still, the 2018 S5 appears narrower than the current model.
Inside, the new S5 has a sportier appearance. The steering wheel has controls that are thumb-reachable. The gauge cluster is analog for now, but you can also opt for a digital cluster. On the center of the panel is a tablet screen with hard buttons in the center console. The pedals are finished in brushed metal while the seats are covered in partial leather.
Under the hood, you can expect the S5 to pack more power than it did before. It has a turbocharged 3.0-liter (2,995 cc) TFSI V-6, which produces 354 horsepower and 369 pound-feet of torque.
In the US, the new S5 is priced at $64,000.
2018 Audi S5 Cabriolet Versus the BMW 4 Series
BMW's two-door compact convertible comes with all the features you'll expect from the German automaker. The interior is full to the brim with high-tech gadgets while the exterior is a little more attention-seeking than the Audi S5 Cabriolet. It has a more premium and elegant feeling, though it's way cheaper than the S5 at $50,000. The only thing bad about this BMW is that it's slower than Audi's entry.